Digital Signages have revolutionised the way messages and advertisements are displayed. There are many advantages of digital signages. You will be able to update and communicate your messages whenever you need to, engage and inform your audience more effectively, and save a great deal of time and money.
EFFECTIVE – with animated and moving graphics, scrolling text or video on your screens, you can engage and inform your customers /audience more effectively than before.
QUICK – you can create offers and promotions in seconds using the player's built-in Intranet technology, doing away with conventional printed posters entirely.
COST-SAVING – the flexibility and management capability is cost effective in the long term.
Our Service
At PureImage we pride ourselves on always being prepared to bend over backwards to fulfil our clients' needs and expectations. Because we are so passionate about what we do, we work tirelessly to keep up with the trends and bring you the latest innovation at prices that make sense and quality that can be trusted.
Our Prices
We are always very competitive on prices. Our native Chinese team has built lasting relationships with a number of factories in China allowing us to negotiate prices as local buyers. This means we can pass on the savings to our customers.
Our Quality
We work very hard to ensure that the quality of our products is never compromised. We test and develop all our products in-house and work closely with the factories to ensure our specifications and quality requirements are met.
Free Standing Digital AD Display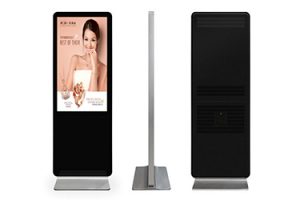 A standalone Digital Advertising Display with a classic tablet aesthetic. A complete All-In-One solution with a built-in media player. Just upload your media via a USB stick. It can display:
Animated and moving graphics
Video footage
Live TV
Web pages
PowerPoint presentations
Scrolling text